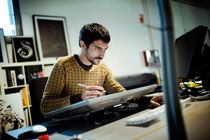 Este joven diseñador gráfico catalán se ha convertido a través del tiempo en una referencia del diseño gráfico publicitario europeo. Trochut nació en Barcelona y estudió diseño gráfico en la Escuela Superior de Diseño Elisava. Desde siempre se desempeñó como diseñador e ilustrador freelance a escala mundial.
Entre sus clientes más destacados se encuentra: Nike, The Rolling Stones, Nixon, Brittish Airways, Coca-Cola, The Guardian, Non-Format, Wieden + Kennedy, Saatchi and Saatchi, BBH y Fallon, entre otros.

Los invitamos a ver parte de su trabajo.
¡Enjoy!
Fuentes: http://goo.gl/i3rzjo